Information about rebuild transmission RE4R01A / RL4R01A (JR402)
One of the features of this four-stage automatic gearbox is its reinforced construction. Such reinforced metal construction makes the transmission virtually invulnerable. The car with an automatic transmission is capable of operating in the most demanding conditions. The electronic control system allows you to optimally distribute torque and perform gear changes so as to realize the dynamic potential of the engine. This modification of the automatic transmission is optimized for working with gearbox and low gearing. It is thus possible using of transmission RE4R01A on jeeps, which are operated on off the road. Transmission easily withstand prolonged slipping, and thanks to an efficient cooling system is able to operate even in the harshest and extreme conditions.
RE4R01A transmission problems
From failures of automatic transmission RE4R01A it can be identified problems with electronics. In some cases, there are problems with the hydraulic solenoids. In the repair of RE4R01A the last are changed immediately all along that slightly increases the cost of repairs. It's necessary to say that with the right service of the gearbox its recourse before overhaul can reach 250,000 kilometers.
RE4R01A rebuild video
Diagnostic video
RE4r01a transmission fluid change
Capacity: 7.9-8.5 qts
Fluid Type: Nissan Matic-D or you can use Dexron III aswell
Transmission parts scheme diagram
RE4R01A Valve body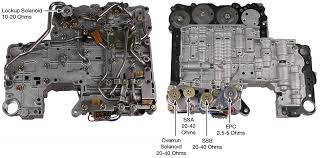 Parts for rebuild RE4R01A transmission
What do you need for repair?
Master kits
Solenoids and Valve Body
Torque converter
Other Parts