Information about rebuild transmission F4A33
Using a relatively simple construction with automatic valve body has attributed this automatic transmission with durability and reliability. In order to improve transmission reliability indicators, it was decided to refuse implementation of the possibility of a manual gear change. This shift lever is mechanically connected with the transmission. F4A33 automatic transmission developers used a large number of standardized electronic systems that have a positive impact on the reliability indices.
F4A33 Transmission problems
Automatic Transmission F4A33 proved itself as a fairly reliable transmission that has no weaknesses. With proper care, the machine is able to serve for many decades. The need for repairs of modified automatic transmission F4A33 arises during mileage of 300,000 kilometers or more. Tend to cause serious breakages is failure to the transmission pump stuffing box, through which the oil leaks and oil starvation occurs, and overheating of the transmission. As a result, there are problems with gear shifting. They are expressed in a substantial jerk, when switching. Repair in this case, is the dismantling of the transmission and its full bulkhead. The pump or failure oil seal need to be replaced. Also, a thorough inspection of the valve body needed. It is not uncommon when a mileage of 300,000 kilometers the valve body goes into disrepair. Repair of the valve body can be done by cleaning up of oil feed channels or in replacement of solenoids.

Transmission scheme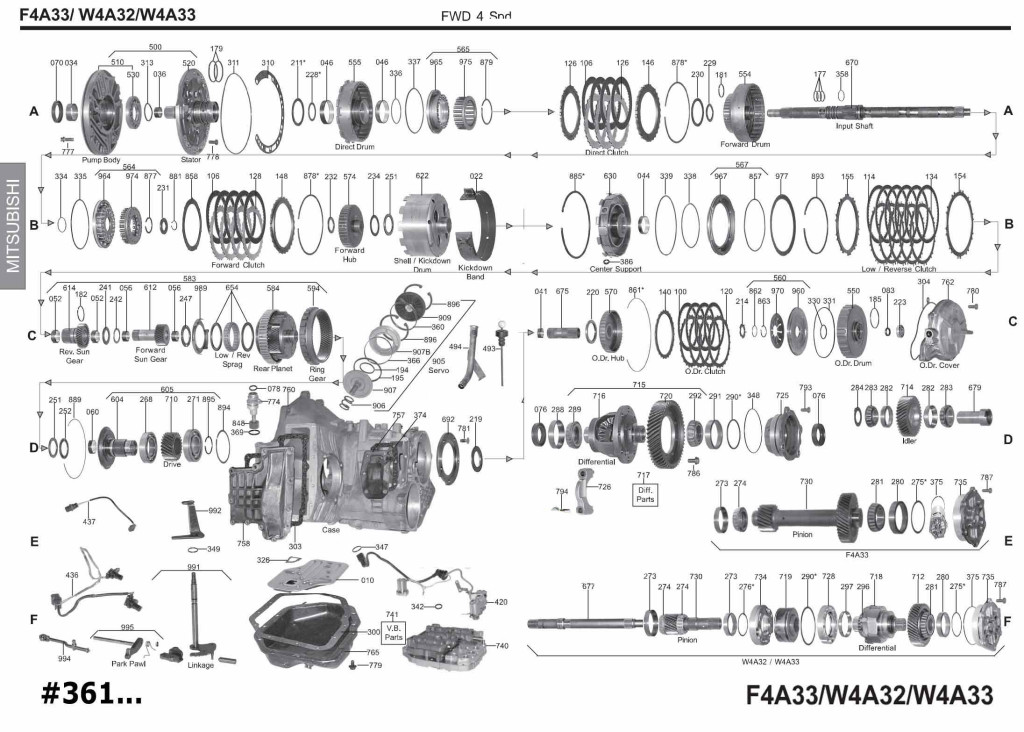 F4A33 Solenoids