Information about rebuild transmission DSG 7 DQ200 0AM
DQ200 — a transversely located 7-stages transmission was launched in 2008. The transmission received the following names: DSG 0AM, 0CW for VW and DSG 0VM for Audi (according to VAG classification). Designed for torque — up to 250 nanometers. It was installed on Golf, Golf Plus, Polo, Scirocco, Seat Ibiza cars. For all engines from 1.2L FSI to 2.0L TDI.
There is a flywheel performing a part of functions of the hydraulic torque converter is connected to dual (two-mass) dry coupling from the producer of couplings for MKP Luk, automatic transmissions which are taken out from an oil bathtub (on the right). Thereby the problem of early failure of a flywheel in the previous DSG-6, and also oil's and solenoids contaminations was solved.
Mechatronic fluid change
Construction of the automatic transmission became very complex, the hydraulics is divided into two different compartments, where each one has oil different in functionality.
Transmission DSG 7 0AM DQ200 Problems
One of the chambers is intended for lubricant of gear wheels and shafts uses usual gearbox oil. Another chamber – mechatronics. There the electric motor via the gear pump creates the huge pressure of oil by which all switchings are controlled. In this compartment oil with the fine filter  is under high pressure. It can be replaced only at overhaul.
Mechatronic Leaks Error P17BF
Standard replacement parts of such gearbox make by means of standard Overhaul kit with usual gaskets and sealing glands. 
From the most often found problems (except vibration of clutches) these boxes: — breakage of the fork of Reverse-switching\6 —(including fork's bearings).
Bearings of the shaft are delivered by a complete set, sometimes even together with the minimum overhaul kit of gaskets and sealing glands.
Sealing glands usually change separately when there is a need for economy. And with other consumables, it is possible to risk and not to change for approximately half of the year or even the year. 
Mechatronic DSG7 Golf MK6
Other malfunctions sometimes happen too. For example, run-out or pollution of solenoids. However, this problem successfully solves by car services specializing in the repair of DSG 7 DQ200 0AM with dry coupling.
Repair of details of such gearbox is quite difficult. And for it generally suitable the details which were used.
These years, through trial and error, the market of the cheap automatic transmission was divided into 1) with low torque using the dry clutch to preselected DCT; 2) with the high efficiency and rather low prime cost. And «wet» clutch is better worked with powerful engines. But so far among specialists, such DSG are considered as expendable and rather difficult for partition and overhaul.


Transmission Scheme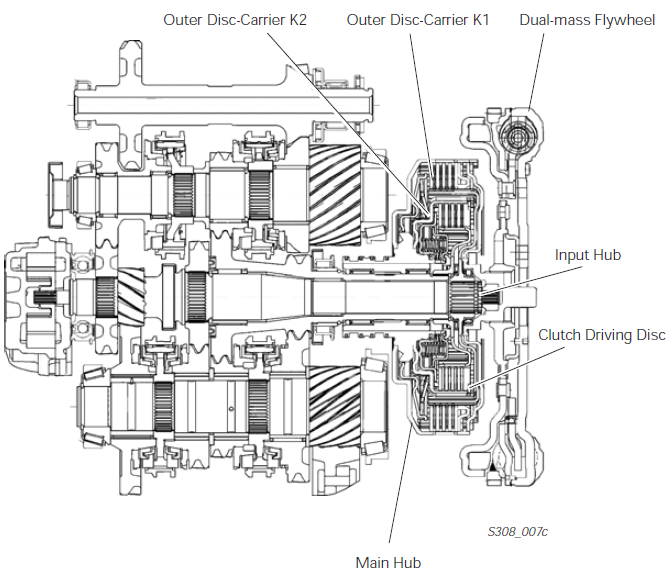 DQ200 0AM DSG 7 Selector Forks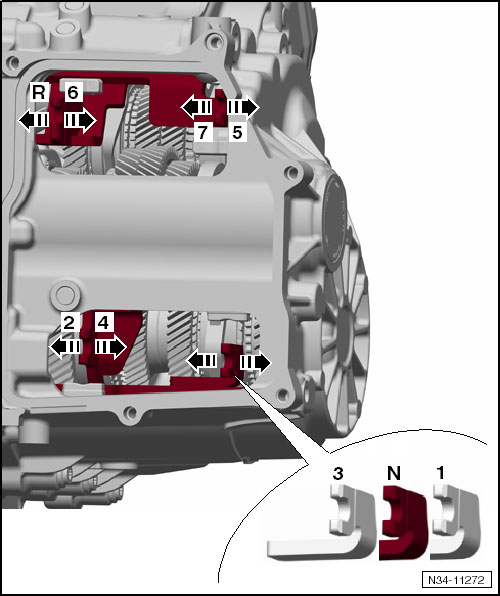 DSG 7 Mechatronic Rebuild Video
DQ200 Clutch Installation Guide
Identify Numbers and Words of DSG 7 DQ200 Transmissions: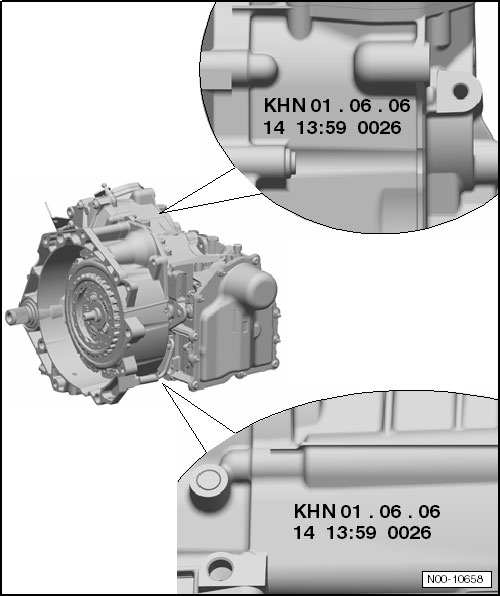 GZJ, HZG, HZH, HZJ, JCA, JCB, JQA, JTA, KBE, KBF, KBG, KBT, KEA, KEK, KHM, KHN, KHP, KHQ, KHX, KJB, KMP, KMQ, KTX, KTY, KTZ, KUA, KUB, KUC, KUD, KUT, LEC, LED, LEE, LEF, LKF, LKG, LKH, LKJ, LKK, LKL, LKM, LKN, LKP, LKQ, LNB, LPH, LPJ, LPK, LPL, LPM, LPN, LPP, LPQ, LQJ, LQK, LQL, LQM, LQN, LQP, LQQ, LQR, LSR, LSS, LST, LSU, LWA, LWE, LWW, LWX, LWY, LWZ, LXA, LYG, LZW, LZX, MAU, MAV, MDH, MGC, MGD, MGE, MGJ, MGK, MGL, MGM, MGN, MGP, MGQ, MGR, MGS, MGT, MGU, MGV, MGW, MGX, MKZ, MLB, MLC, MLD, MLE, MLF, MLG, MLH, MLJ, MLK, MLL, MLM, MLN, MLP, MLQ, MLR, MPH, MPJ, MPK, MPL, MPM, MPN, MPP, MPQ, MPR, MPS, MPT, MPU, MPV, MPW, MPX, MQE, MQF, MQG, MQH, MQJ, MQK, MSL, MSQ, MUV, MYQ, MYR, NAS, NAT, NAU, NAV, NAW, NAX, NAY, NAZ, NBA, NBB, NBC, NBD, NBE, NBF, NBG, NDB, NDC, NDD, NJZ, NKA, NKW, NNX, NPE, NQA, NQB, NQC, NQD, NQE, NQF, NQG, NQH, NQJ, NQK, NQL, NQM, NQN, NQP, NRN, NRP, NRQ, NRR, NRS, NSQ, NTP, NTQ, NTR, NTS, NTT, NTU, NTV, NTW, NTX, NTY, NTZ, NUA, NUB, NUC, NUD, NUE, NUF, PCC, PFC, PFD, PFE, PFF, PFG, PGQ, PGR, PHA, PJQ, PJZ, PKB, PKM, PKN, PKP, PKQ, PKR, PKS, PKT, PKU, PKV, PKW, PKX, PKY, PKZ, PLA, PLB, PLH, PLJ, PLK, PLL, PLM, PLT, PLU, PLV, PMH, PMJ, PMK, PML, PMM, PMN, PMP, PMQ, PMR, PMS, PMT, PMU, PMV, PMW, PMX, PRB, PRC, PRD, PRE, PRF, PTD, PTE, PTF, PTG, PTH, PTJ, PTK, PVU, PVV, PVW, PVX, PVY, PVZ, PWA, PWB, PWC, PWD, PWE, PWF, PWG, PWH, PWJ, QFP, QGV, QGW, QGX, QGY, QGZ, QHA, QHB, QHC, QHD, QHE, QHF, QHG, QHH, QHJ, QHK, QHL, QHM, QHN, QHP, QJF, QJG, QJH, QJJ, QJK, QJM, QJN, QPH, QQK, QQT, QQU, QQV, QQW, QQX, QQY, QQZ, QRA, QRB, QRC, QRD, QRE, QRF, QRG, QRH, QRJ, QRP, QRQ, QRR, QRS, QRT, QRW, QRX, QRY, RCQ, RCR, RCS, RCT, RCU, RCV, RCW, RCX, RCY, RCZ, RDM, REL, RFF, RFG, RFH, RFL, RFM, RFN, RFP, RPT, RPU, RPV, RQH, RQJ, RQK, RQN, RQP, RQQ, RQR, RQS, RQT, RQU, RQV, RQW, RQX, RQY, RRT, RRU, RUA, RUC, RUD, RUE, RUF, RUG, RUH, SLP, SLQ, SLR, SLS, SLT, SLU, SLV, SLW, SLX, SLY, SMG, SMU, SMX, SMY, SMZ, SNA