Information about rebuild transmission 01J CVT (Audi)
Variatior 01J CVT were one of the first serial transmissions installed in Audi cars. Note, that this transmission gave a good account of itself: it is able to overcome more than 200,000 kilometers without overhaul. This manual tells how to repair 01J CVT, if it's broken down.
The weak point of 01J CVT is a control unit. This element doesn't have a proper resistance to temperature changes. It can break down in summer heat and winter frost.
Fluid change
It also should be noted that the key to trouble-free exploitation of this variator is a regular oil change using high quality spare parts. You will need 7.5 liters of the original gear oil to carry out a complete oil change. Sometimes problems can be caused by leaking oil seals and gaskets. It leads to oil loss and insufficient pressure in a system. This variator is extremely demanding to a lubricant mixture quality and oil pressure in the system. A common problem is a breakdown of the clutch. It must be replaced if damaged. The point is that the clutches are sold in sets only and require a complete replacement.
If automatic gearbox breaks down, information about it will appear on the central panel of the car. In this case car owner should contact a service center as soon as possible.

Transmission scheme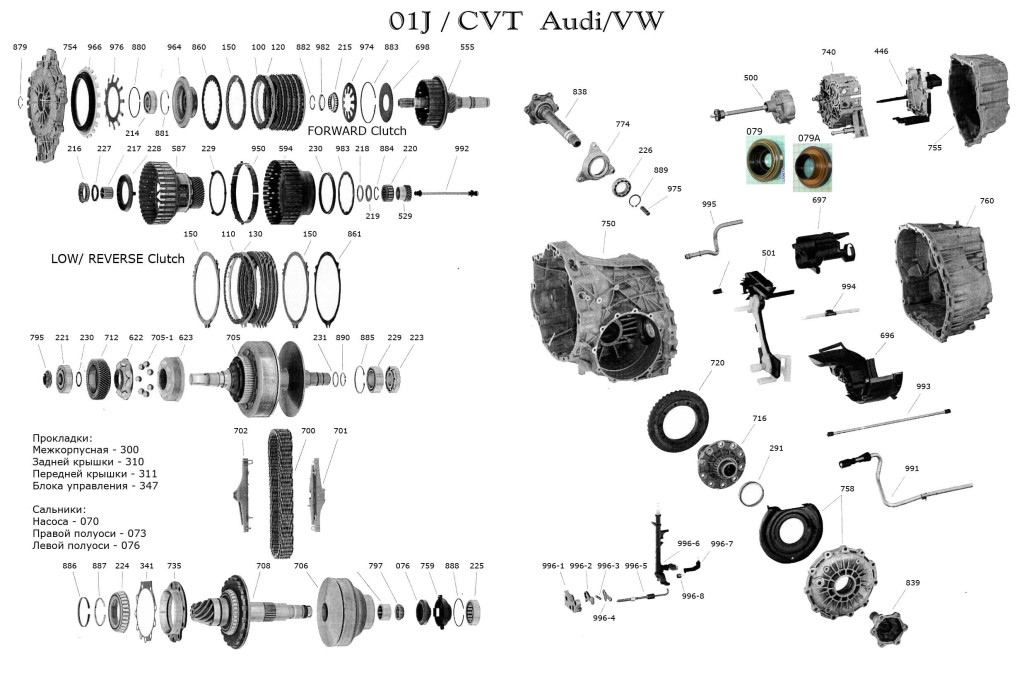 01J CVT parts
CVT Chain Belt
01J Rebuild Kit
TCU/ECU Transmission Control Modules
Valve Body