Information about rebuild K310/K311/K312/K111/K112 XA-10LN, XA-15LN transmission
In the late 1990s, Toyota specialists started to work on the creation of the variator designed for front-wheel-drive cars. In 2000, the K310-K111 transmission family appeared, which was subsequently carried out in various modifications, distinguished by reliability and versatility of use. The repair and timely service of the variator K310, K311, K312, K110, K111, K112, K410, XA-10LN, XA-15LN allowed operating such transmission for 500.000 km without overhaul.
The K110 variator model, which was installed on Estima, Opa, Corolla, and Yaris, appeared in 2000.
Four years later, a modified CVT was released, which received the K111 index, and in 2005, the model with a reinforced structure of K112 appeared, which was installed on engines with a capacity of up to 2.4 liters.
Soon there were K114-K115 modifications, which had updated electronics and modified settings of the control unit.
In 2003, a series of mini variators was launched under the K310 index; they were intended for engines with a capacity of 1.8 liters or less.
K410 and K411 variators were created specifically for the compact engines with a capacity of up to 1.3 liters. They had a compact design, fully electronic control and were equipped with improved solenoids and a modified valve body.
The transmission of XA-10LN and XA15-LN modifications was intended for the foreign markets and aimed at replacing the compact variators of the JF011E-JF015E modification.
Fluid change in Toyota CVT K310/K311/K312
Fluid type: Toyota CVT-FFE or CVT FE.
Capacity: 6 liters for change
Fluid change in Toyota CVT K110/K111/K112 instruction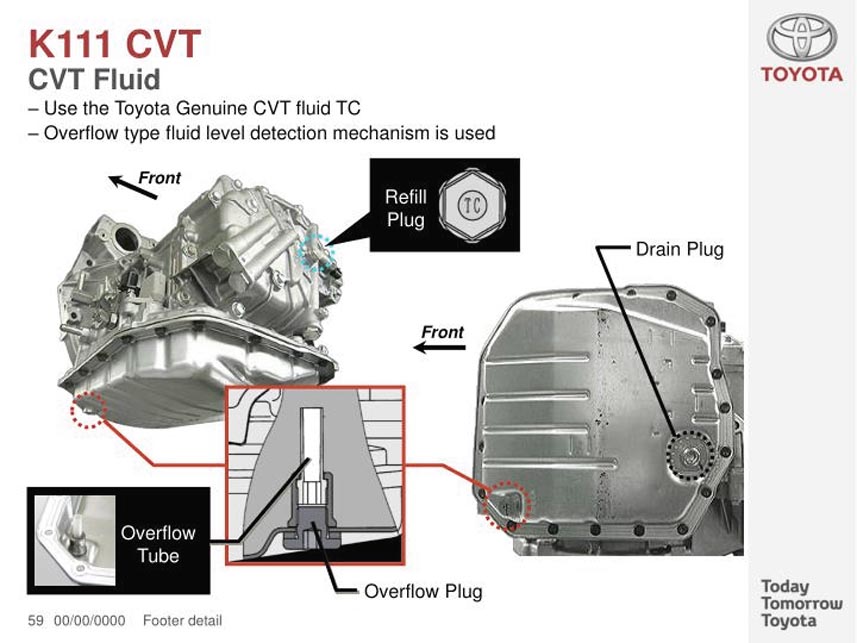 Video k111 DIY oil change
Transmission problems K310, K311, K312, K110, K111, K112
The reliability and service life of this variator will largely depend on whether the car owner will follow the recommendations on the car maintenance. Particularly, it was necessary to completely exclude car slippage or active dynamic ride with frequent acceleration to the floor.
K311 Introduction video
Typical malfunctions include problems with the torque converter, leaking oil seals, clogged heat exchanger, and wear of the iron (i.e., sun gear bearings and belts).
Rebuilding K310, K311, K312, K110, K111, K112, K410, XA-10LN, XA-15LN
An appropriate repair kit is used to restore the torque converter, which somewhat simplifies such repair work.
K311 transmission rebuild video
The car owner should contact the service in a timely manner. As soon as the car starts to knock and kick during power transfer, and the variator starts to lag or slip, you should immediately bring the car to the workshop, perform its diagnostics and repair.
K310/K311 transmission rebuild video
Pressure test
Iron wear of K310, K311, K312, K110, K111, K112, K410, XA-10LN, XA-15LN
The weak point of this transmission is the sun gear bearings, which are subjected to significant twisting loads during sharp accelerations or when using the machine at high speeds. "Toyota" was aware of this problem and tried to solve it by strengthening the bearings with gears, and making appropriate adjustments to the control unit, preventing an increased variator load.
Scheduled major repair K310, K311 can also include the replacement of worn Bosch belt.
Maintenance and repair of the valve body K310, K311
During the rebuild K310, K311, K312, the valve body is serviced, which has a huge safety margin for iron. Its washing is carried out with solenoids; they perform the troubleshooting of the state of the electric valves, which may become clogged with dirt because of the worn torque converter.
K110/K111/K112 Scheme diagram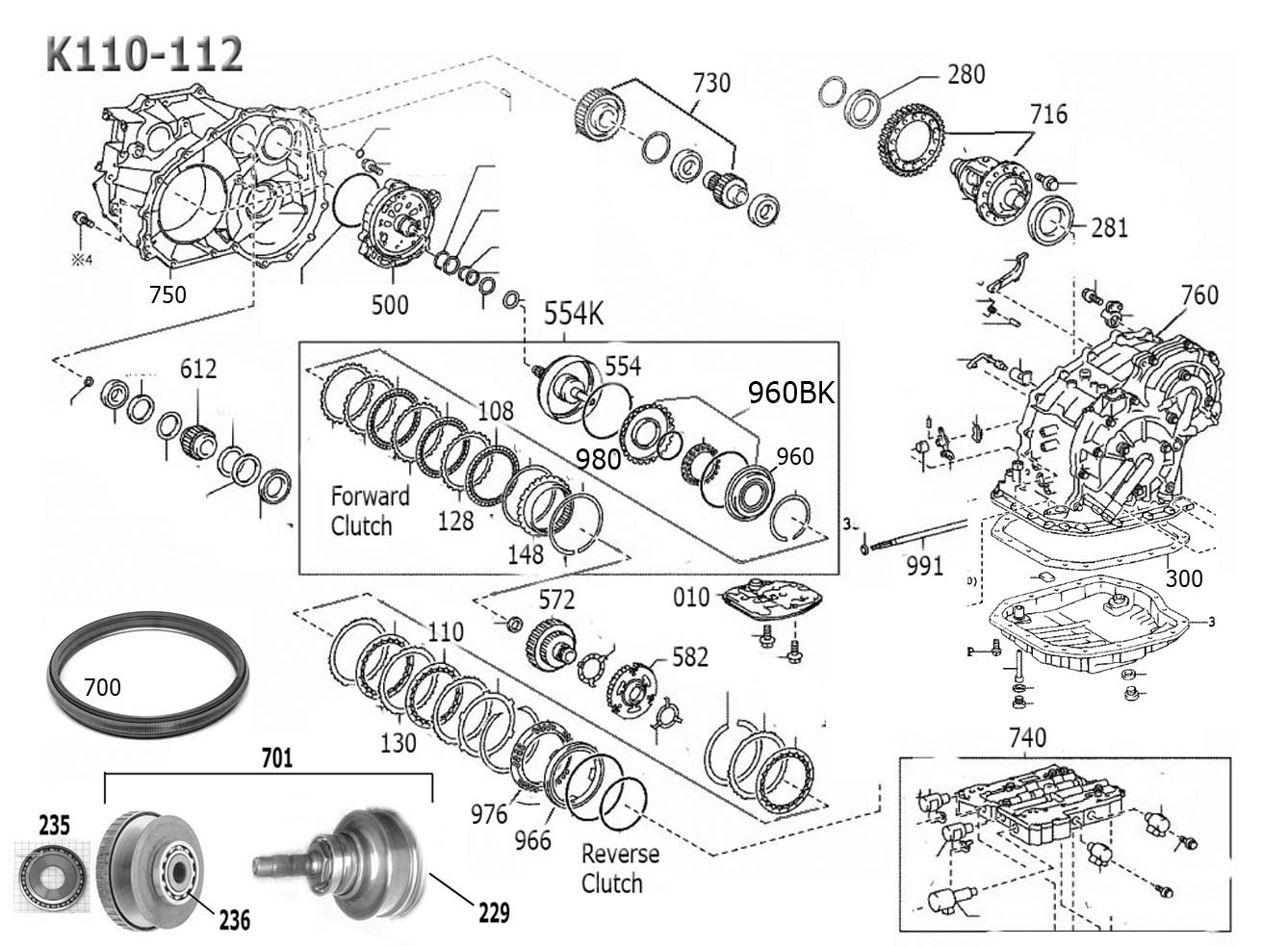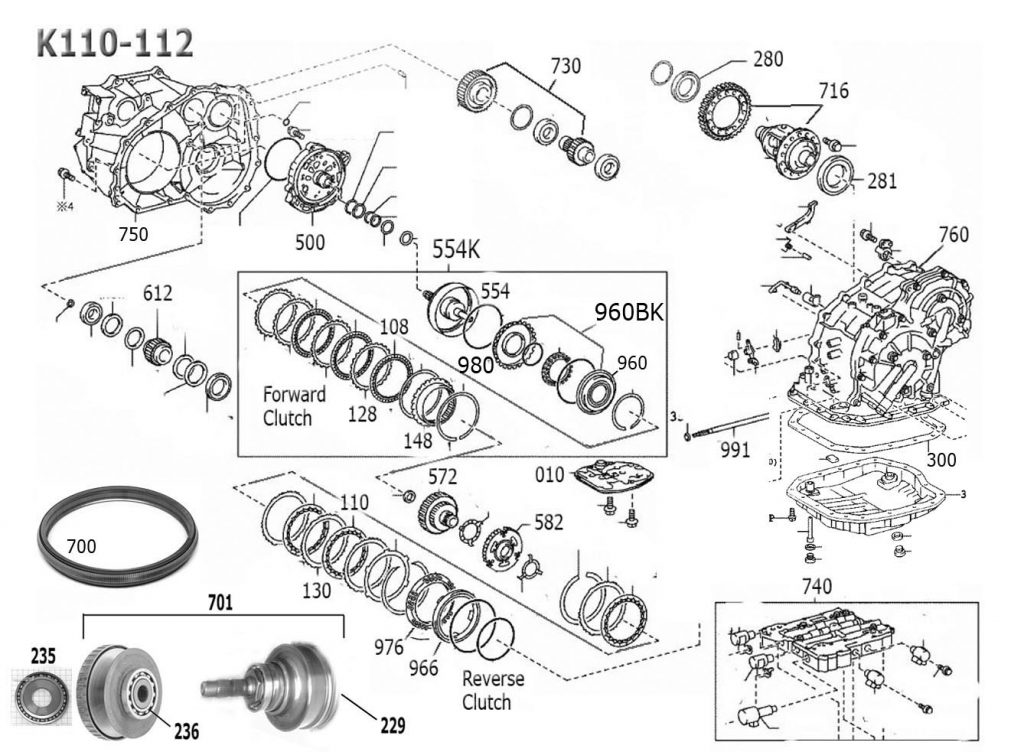 K310/K311/K312 Scheme diagram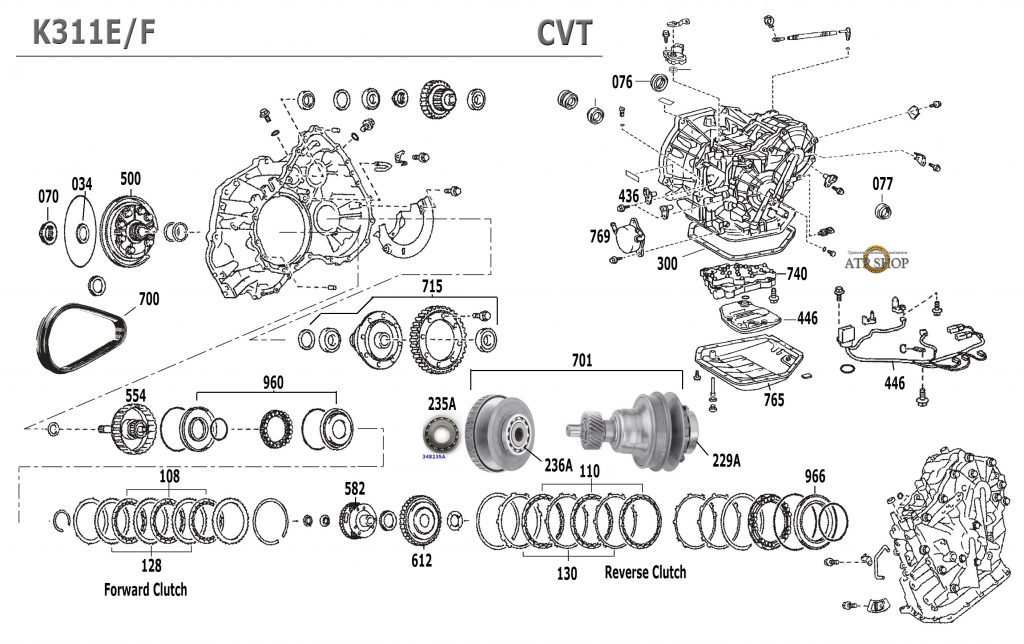 K310/K311 Valve body and solenoid scheme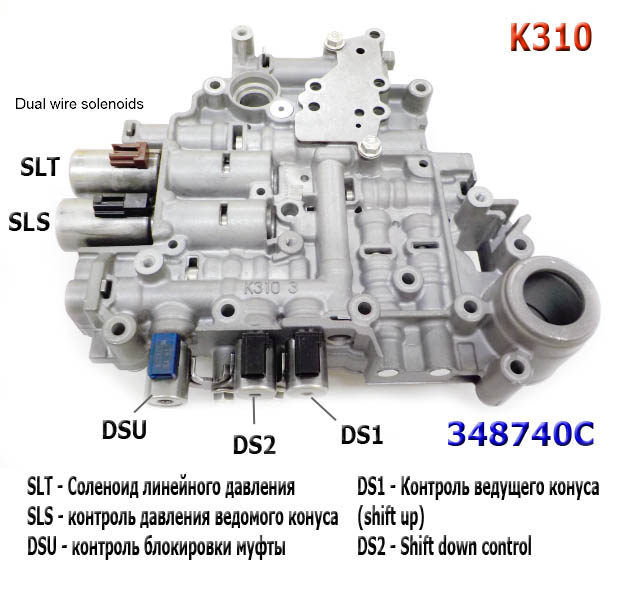 K111 and K112 Valve body scheme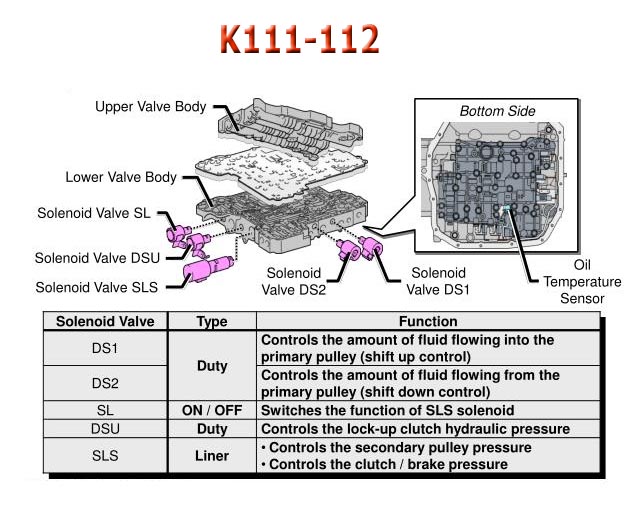 K111 transmission fault codes (DTC)
Calibration instruction